Darkbot.io
|

Advanced
Cryptocurrency Trading Bot

Darkbot - an innovative system for automatic trading on digital asset exchanges, Darkbot assists traders and investors in optimizing profits while mitigating risks.
Darkbot has no access to your funds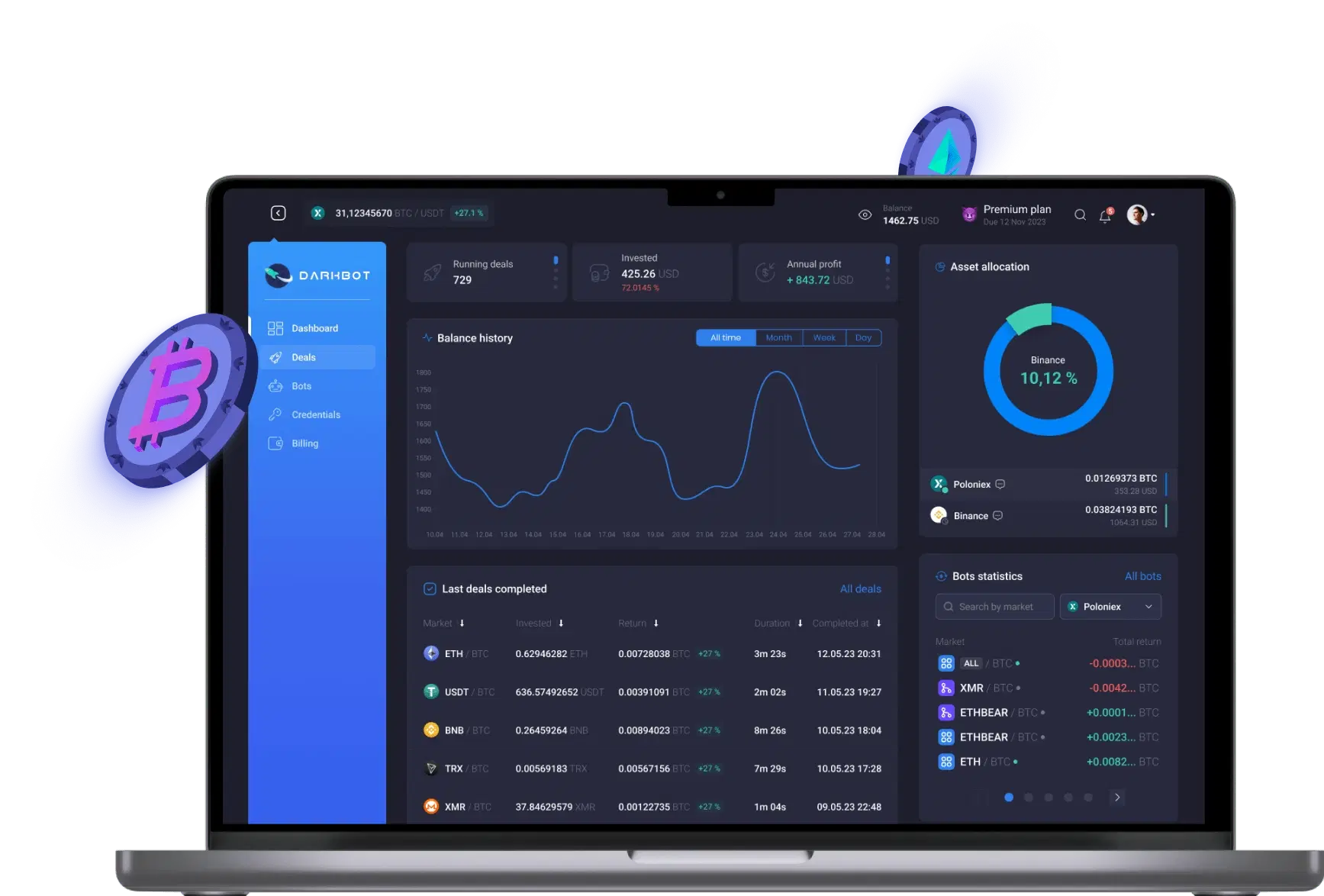 Supported exchanges
Take advantage of our advanced trading strategies to maximize your profits.
efficient trading
Are you still conducting trades
directly on the exchange?
Integrate Darkbot with your preferred platform and trade ceaselessly
without transforming it into an all-consuming occupation.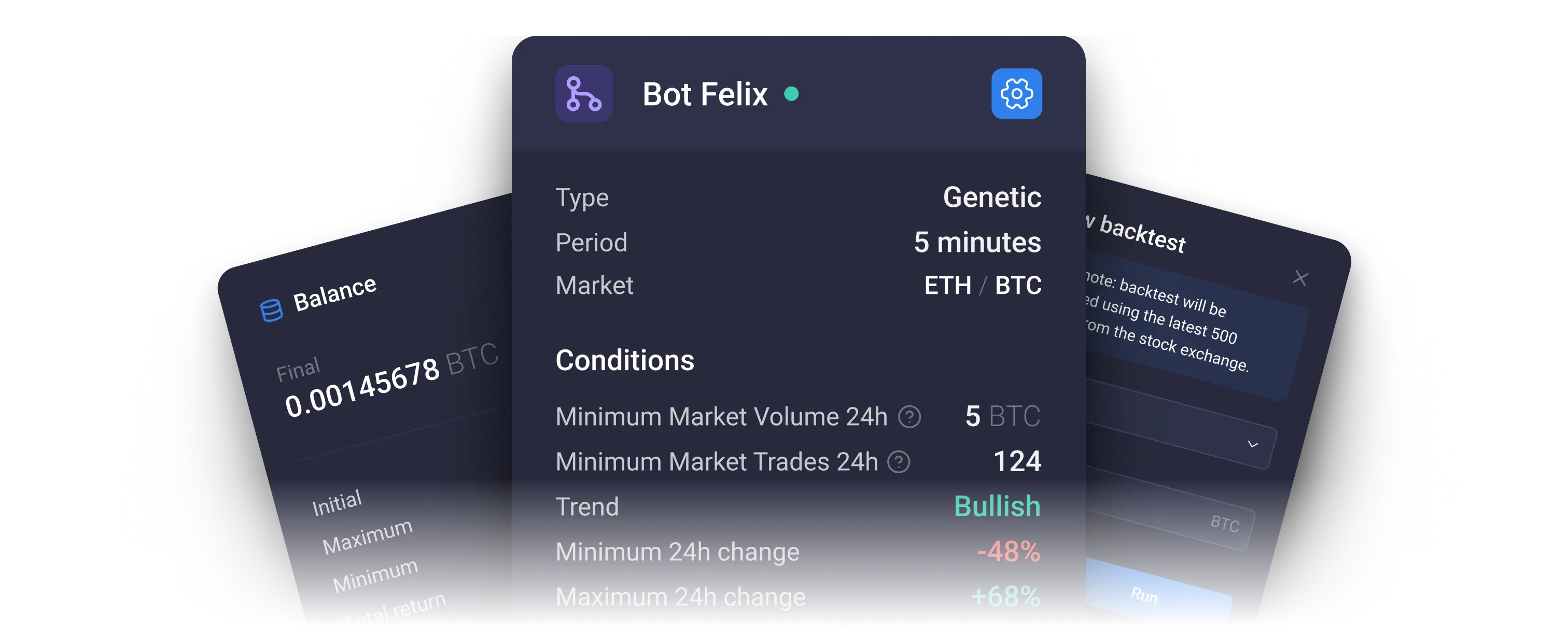 Try Darkbot now!
risk management
Did you know that a staggering 90% of daily investors experience financial losses?
We aspired to revolutionize the cryptocurrency domain, and we triumphed. Our fully automated trading interface guarantees optimal outcomes.
Darkbot employs machine learning and sophisticated artificial intelligence to deliver unrivaled risk-adjusted returns, all while maintaining absolute control and instantaneous access to your investments.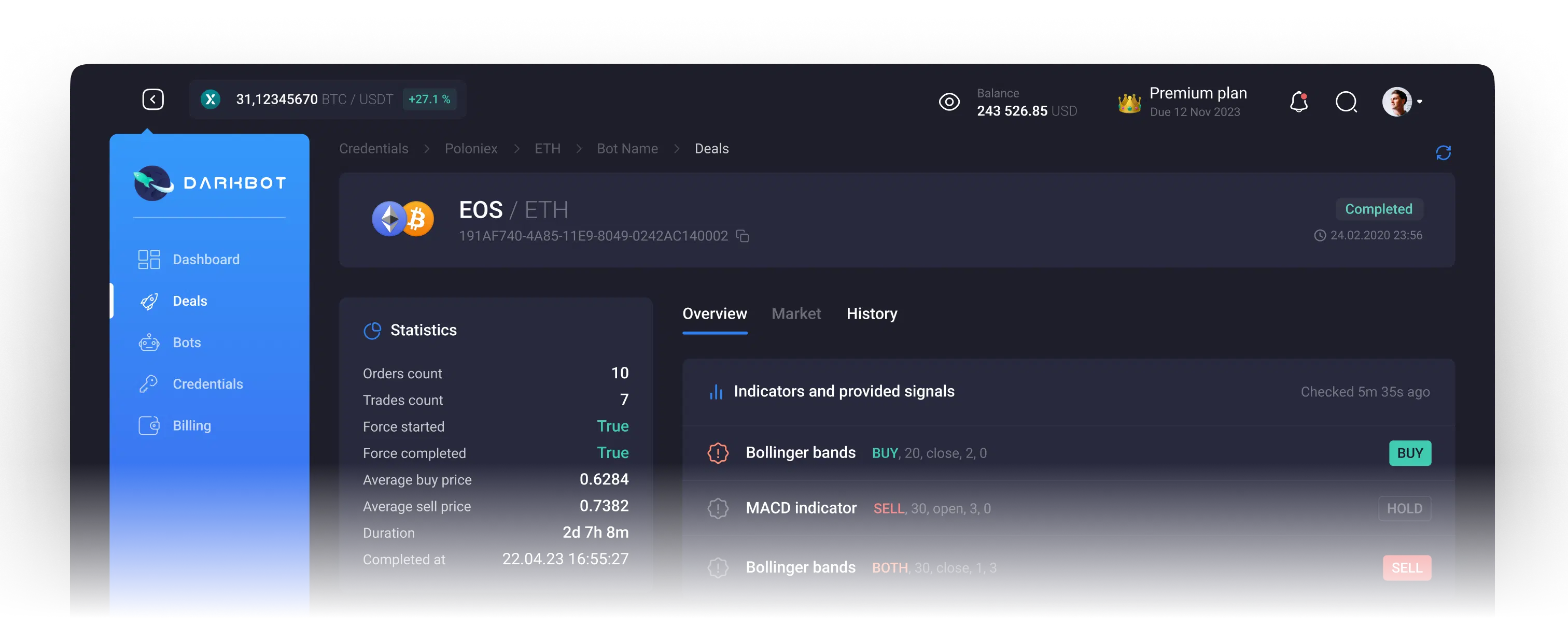 key features
Our Distinct Advantages
Cryptocurrency's meteoric ascent can be attributed to its transparent and incorruptible nature. This same standard should be demanded from any trading bot you select. Although Darkbot is a newcomer in the trading bot arena, it can yield substantial gains, even amidst a crypto bear market.
About Us

Security
DarkBot emphasizes security, ensuring users can trade with assurance and tranquility. The platform implements cutting-edge security measures to protect user data and assets while maintaining system integrity. A critical aspect of DarkBot.io's security strategy is direct order routing to cryptocurrency exchanges, eliminating intermediary servers. This approach mitigates potential attack vectors and minimizes the risk of unauthorized access or manipulation of trade orders.

Attentive Support
At DarkBot.io, we take pride in offering personalized and attentive support, ensuring users can optimize their trading experiences. Recognizing that each user has distinct needs and concerns, our dedicated support managers are always ready to assist with any questions, issues, or challenges that may emerge.

Dependability
In the rapidly evolving domain of cryptocurrency trading, dependability is crucial for success. DarkBot.io has been developed with this principle at its core, offering an accurate and reliable automated trading execution solution.

Superior Quality
In today's fast-paced world, striking the perfect balance between enjoying life and building financial security can be a challenge. That's where DarkBot.io comes in, offering you the finest quality automated trading solution that takes care of your cryptocurrency investments, so you can focus on what matters most to you.

Automation
DarkBot.io aims to simplify and automate cryptocurrency trading using advanced technology and algorithms. This automated trading solution saves time, effort, and money compared to manual trading methods.

Ease of use
DarkBot.io features a user-friendly design, making it accessible for both new and experienced traders. The intuitive interface and extensive functionality enable users to easily control their trading bot.
How it works
01
Connect
Link Your Exchange Account Using Your API Key
By linking DarkBot to your exchange account, you'll unlock advanced trading tools and tactics, empowering you to seize market opportunities and optimize your trading journey.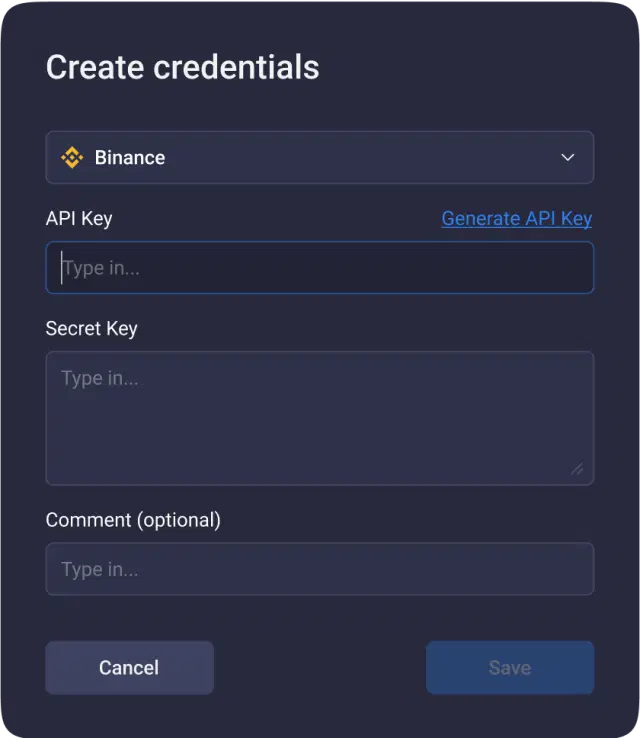 02
Configure
Fine-Tune Your Crypto Bots for Peak Performance
After refining your configurations, you'll be poised to deploy your crypto bot and enjoy the benefits of automated trading. Harness the power of DarkBot and witness your investments flourish with minimal effort.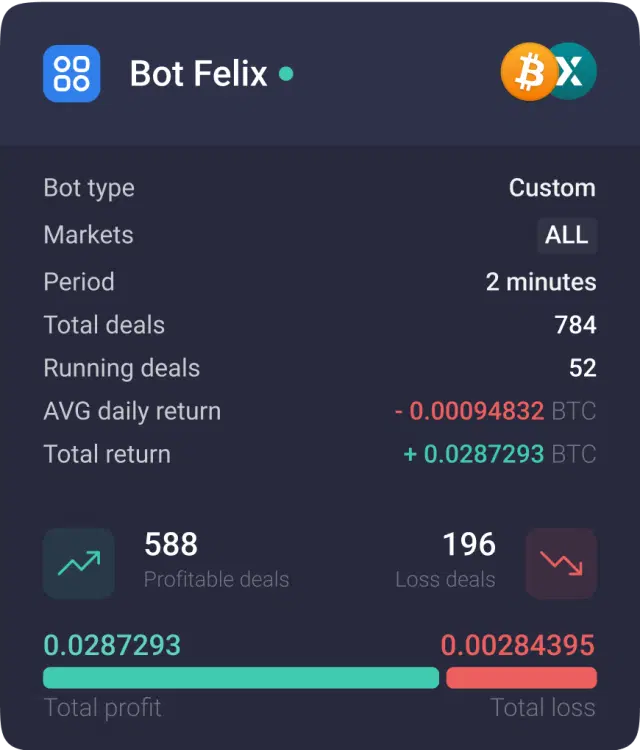 03
Enjoy
Relax and Watch Your Profits Grow with Darkbot
Leverage DarkBot's sophisticated software solutions to develop and manage your portfolio while benefiting from the knowledge of our devoted team. Experience unparalleled command over your investments and watch your assets flourish.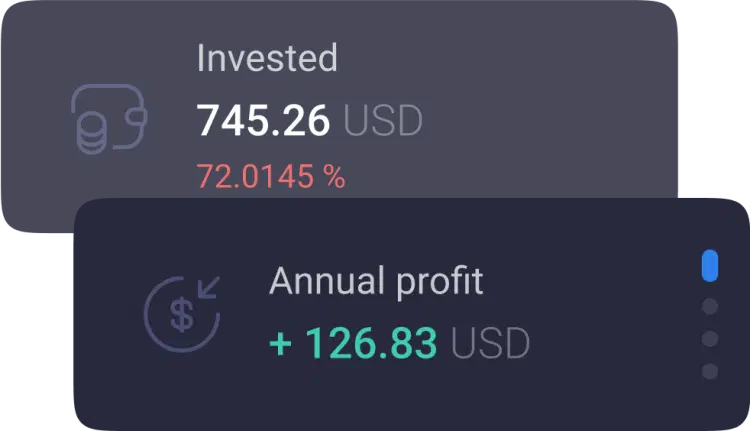 Testimonials
What Our Happy Customers Have to Share
The process was amazing! Selecting assets, utilizing crypto bots, and earning money - it's a dream come true for traders who prefer convenience.

Victoria

Australia
My experience with your crypto trading bots has been incredible. I never thought trading cryptocurrency could be this easy!

Andrew

UK
Trading with your bot feels like an engaging game. There's no need to monitor tedious graphs or hire a broker. Just configure the bot's settings and begin the crypto challenge.

David

USA
Free
$0.00
forever
---
Free for 14 days
Access to all supported exchanges
Unlimited number of trades
24/7 customer support
Regular software updates
Get started
Standard
per month
---
Basic trading strategies
Access to all supported exchanges
Unlimited number of trades
24/7 customer support
Regular software updates
Try for free
Premium
Trader's choice
per month
---
All features from the Standard Plan
Custom trading strategies
Dedicated account manager
Advanced backtesting capabilities
Premium customer support
Try for free
Frequently
asked
questions
Couldn't find the answer you were looking for? Get in touch with our support team
DarkBot.io is a cutting-edge crypto trading bot developed for both new and experienced traders to successfully navigate the unpredictable crypto market. By automating trading tactics and harnessing artificial intelligence, DarkBot.io seeks to maximize earnings while minimizing risks. The platform features an intuitive interface, simple setup, and flawless integration with well-known cryptocurrency exchanges. Users can personalize their trading approaches, apply a variety of technical indicators, and effortlessly manage their investment portfolios. DarkBot.io also delivers real-time data, analytics, and performance monitoring, enabling traders to make educated decisions and modify their strategies as necessary.
What cryptocurrencies does Darkbot support?
DarkBot accommodates a diverse range of trading preferences by supporting numerous highly liquid digital assets. Alongside popular cryptocurrencies like Bitcoin (BTC), Ethereum (ETH), Litecoin (LTC), and Ripple (XRP), the platform persistently extends its support to incorporate new and promising altcoins. By providing an extensive selection of digital assets, DarkBot allows traders to exploit various market opportunities, diversify their portfolios, and potentially boost their returns.
How do I get started with Darkbot?
Initiating your DarkBot journey is a seamless process. First, visit the website at https://darkbot.io/ and sign up for an account plan that matches your requirements. After registration, follow the comprehensive instructions for installation and setup, which usually takes approximately 5 minutes. Once installed, link your preferred cryptocurrency exchange account using API keys and adjust your trading strategies based on your risk tolerance and investment objectives. With DarkBot.io's user-centric interface and AI-powered trading algorithms, you'll be well-positioned to capitalize on market trends and potentially expand your cryptocurrency portfolio.
Subscribe to our Newsletter
You'll be informed about our updates, special offers and planned changes.